Cowboy Desperado is an Ugress retrospective album. It features tracks from both Cinematronics and Resound. The only new track to this album is Spider Eyes, a remix of the Spider-Man Theme.
The album was discontinued on October 24th 2007.
Track Listing
Edit
Album Art
Edit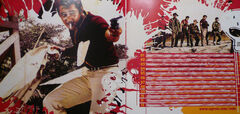 While both Resound and Cinematronics have relatively bland inlays, Cowboy Desperado features a sparkling ensemble of Bollywood-style promotional posters.
Ad blocker interference detected!
Wikia is a free-to-use site that makes money from advertising. We have a modified experience for viewers using ad blockers

Wikia is not accessible if you've made further modifications. Remove the custom ad blocker rule(s) and the page will load as expected.