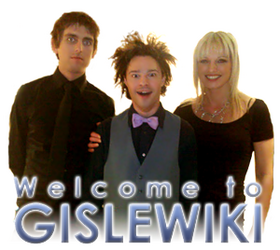 Welcome to Gislewiki, the number one resource for information regarding the many faces of Gisle Martens Meyer! We are happy that you have spared interest in our wiki, and hope you'll stay with us and help us to make it better.
What can I do to help?
Anyone can edit almost any page on the wiki! If there's anything at all you have found wrong, you can fix it. Don't be afraid of breaking something; everything can always be undone in a zip! So go ahead, and make a change!
First steps
Create an account — Creating an account on Gislewiki helps you to keep track of your edits, allows you to upload files, and best of all; grants you access to all of Wikia's over 6000 wikis at one single registration.
Create a userpage — Creating a userpage is simple. It works the same way as everything else in the wiki. You can write anything you wish on it, however keep courtesy in mind. Your userpage is located at User:yourusername on the wiki.
Participate — Start constructing and improving the wiki with us! Here are some good places to start with:
What? Gisle who?
Jump to the next part of this three-part introduction to find out more about Gisle Martens Meyer!