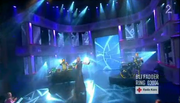 The April 5th 2008 live show was a one-song performance for Artistgalla, a huge charity production for the Red Cross. The only song Ugress played was Blue Magnetic Monkey from the newest album, Unicorn.
The show was broadcasted live on TV2 of Norway, and was uploaded on YouTube by a fan.
On April 9th, a Flickr set with 41 entities (pictures and videos) was published, containing backstage material (nothing of the show itself).
External Links
Edit
Ad blocker interference detected!
Wikia is a free-to-use site that makes money from advertising. We have a modified experience for viewers using ad blockers

Wikia is not accessible if you've made further modifications. Remove the custom ad blocker rule(s) and the page will load as expected.