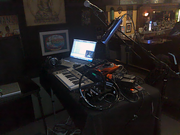 The February 28th 2008 live show was the first show of Ugress ever to be in the United States. It was held in Nomad World Pub as a part of the Spark Festival of Electronic Music and Arts.
The entire span of the show was documented in the journal; from the ticket booking to the flight to Gisle's and Igor's stay in America to the aftermath. The trip was also photographed, and a Flickr set was made.
Most live shows are also captured on video, however this time neither Gisle or Igor had the time to set up any cameras, and thus no footage is available of the show.
External Links
Edit
Ad blocker interference detected!
Wikia is a free-to-use site that makes money from advertising. We have a modified experience for viewers using ad blockers

Wikia is not accessible if you've made further modifications. Remove the custom ad blocker rule(s) and the page will load as expected.