Manhattan Sapphire [03:56] is a track from the Ugress album Cinematronics, and also is the first track on Cowboy Desperado. Manhattan Sapphire can be freely downloaded from the Ugress website.
Featured Artists
Edit
Music video
Edit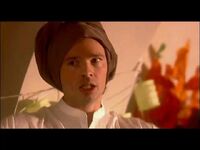 The music video follows a couple on their journey towards their marriage. The girl - Jasmin Diwali, is apparently from a rich family. She falls in love with Ali Maday, the family's gardener. Jasmin's father objects to this, and chases Ali through various places including a garden and a market. After they reach a waterfall, Ali demonstrates his dancing skills and the father accepts him into the family. The video ends with Jasmin and Ali's marriage. The video is shot in a traditional Bollywood fashion complete with B-class chroma key shots.
Gisle makes a cameo appearance in the video, as seen in the picture on the left.
Alternate Versions
Edit
An alternate version, Manhattan Sapphire (Web Edit) [03:40] is available for download on the Ugress Free download page
External Links
Edit
Ad blocker interference detected!
Wikia is a free-to-use site that makes money from advertising. We have a modified experience for viewers using ad blockers

Wikia is not accessible if you've made further modifications. Remove the custom ad blocker rule(s) and the page will load as expected.