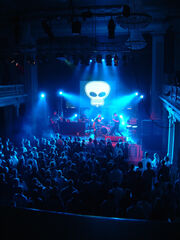 Ugress live shows are unforgettable multimedia experiences. In addition to the music, usually video and light shows are an imperishable part of the live experience too.
The shows usually feature other people than Gisle on stage. In the past, vocalist Therese Vadem and bass/percursion player Czhewr Affen among others have contributed on the live shows. The live versions of tracks can differ vastly from the album versions.
Live Show History
Edit
Live Material
Edit
Recordings from the live shows are included in some of the web extras, both sound and video files.
Ad blocker interference detected!
Wikia is a free-to-use site that makes money from advertising. We have a modified experience for viewers using ad blockers

Wikia is not accessible if you've made further modifications. Remove the custom ad blocker rule(s) and the page will load as expected.